Key Features
Import all proxy servers directly from your WonderProxy account
Navigate easily, even with hundreds of proxies
Switch between proxies in seconds
Star your favourite proxies for easy access
Test websites based on geoIP or browser location
Set filters to include or exclude domains from proxied traffic
Add an arbitrary HTTP header
Available for Firefox, Chrome and Edge
View user guide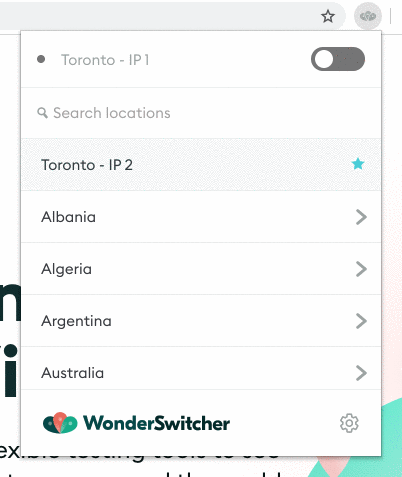 Frequently Asked Questions
How do I get it?
The WonderSwitcher is available from the Chrome Store, the Firefox Store, and the Microsoft Store for easy installation.
---
Why does it want so many permissions?
Browsers (correctly) consider setting a proxy to be a very privileged action, since you're voluntarily sending all your browsing information to another computer! In this case it's required since we are - by design - setting your proxy information.
---
How do I import proxies?
Click on the Import to Extension link on your WonderProxy servers page to automatically import your server list to the add-on. For information on how to manually add servers, view our user guide.
---
How do I set my password?
Click on the WonderSwitcher icon in your browser. Select Settings, then Credentials and enter your username & password. If you're a WonderProxy user, we'll verify your credentials.
---
Why is it blinking red?
You've set a reminder. This is helpful if you're prone to setting a proxy and forgetting about it.
---
How much does it cost?
The extensions are available for free.
Latest Release
Version 4.5.0
April 1, 2020
Add starred proxies functionality
Fix window focus when launching settings from private browsing mode in Chrome & Edge
---
View all release notes
Want to know more about how you can use WonderProxy?
Drop us a line and we'll be in touch.