Localization testing you can rely on
If you operate internationally, do you know for certain what your site looks like in those international locations?
If you don't know, you could be missing bugs – and you could be losing revenue.
WonderProxy shows you what your website looks like in all your markets, whether they're down the street or on the other side of the world. You can see exactly what your customers see – and with zero changes required to your site.
WonderProxy made it super easy to validate that my parity-pricing geoIP code was working right, and while testing I found and was able to fix a big flaw in my system. I had a bug where I wasn't displaying a discount banner, and since fixing that, I've made more international sales in the last few weeks than I have in the last 6 months.

Dave C.

Dave Ceddia
Leave the localization guesswork behind
Test locally so you can launch globally.
Our enterprise-grade infrastructure in 260 cities in 90 countries around the world means you can be confident we've got you covered.
Download our guide to the most popular components of localization and how to test them:
Localization testing guide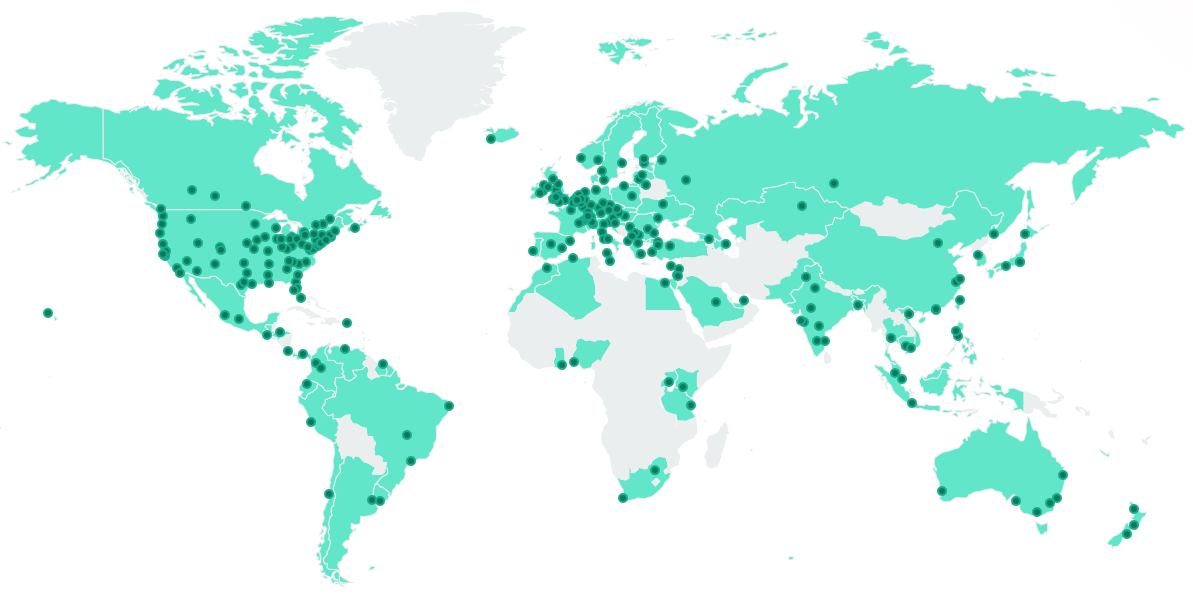 A localization tool that lets you

Start testing sooner

If you want to start testing quickly, the WonderSwitcher browser extension gives you what you need.

Install the WonderSwitcher in your browser, select the server location you'd like to use and you'll see your site as people see it in that location. There's no need to change your site, add plugins or do anything in the back end.
The simplest, no fret, most reliable way to see what our users see on our sites anywhere in the world. We wouldn't be able to develop or test our geo-targeted applications without it.

Nick I.

MindGeek
A localization tool built

By developers for developers

All our servers run an HTTP proxy. You can configure your browser or automated software to route your HTTP and HTTPS traffic through the proxy to test your geoIP sites and applications.

Loop localization testing into your automated CI/CD pipeline with Selenium, Playwright, or Puppeteer, and expand your localization test coverage with our Sauce Labs integration.
Resources for developers
With colleagues and clients spread out all over the globe, WonderProxy's vast network allows us to verify that remote services are up and that they stay up.

Sean C.

Fictive Kin
A localization tool

Built for reliability

With the WonderProxy network, you get a reliable tool that lets you see what your customers see.

Our servers are all in data centres in the countries we say they're in and our growing network of residential servers is made up of people happy to host a mini-server in their homes. We work hard to keep everything accessible, reliable, and secure, so your proxy functionality will always be robust.
Support when you need it
When it comes to support, our starting point is knowing how it feels to be on the other side.
Whether you need a hand onboarding your team or you've forgotten your password, we're here for you. We'll always route you to the right person so you don't have to explain your question multiple times. In short, when you need a human to talk to, we're humans you can talk to.
Although we've got a mighty reach, we're a small team and we care about our customers. If you've got a specific requirement, tell us and we'll see if we can help. Many of WonderProxy's features started as a conversation with a customer.
WonderProxy's support department is always ready to help with whatever questions you have. Their servers do the job fast, with easy setup and good pricing.

Stephan T.

Adnovation B.V.
Is WonderProxy the solution you need?