3 Marketing Strategies to Reach Local Customers
Nearly all (97%) consumers search for local businesses online and more than half (54%) search at least once a month, according to BrightLocal. In addition, more than 154 million people use Google Maps on a regular basis to find local businesses near them. Local marketing strategies can help businesses reach these consumers at these critical times.
Let's take a look at three marketing strategies that can help you reach local customers and increase your return on ad spend.
#1. Ensure That You Appear on Google Maps
Millions of people use Google Maps each month, according to Statista. Whether users are looking for a bite to eat or scoping out a future vacation, Google Maps helps people find where to go — and it's a great place for potential customers to discover your business. Local businesses should ensure that they're showing up on both Google Maps and Google Search results.
Google My Business is a good starting point for helping your business appear in local search results and maps. By signing up and entering data, you can help Google match customers to your business. You can also ensure accurate hours in your listing (e.g. special hours or holiday hours), manage and respond to reviews, and add photos to help your listing stand out.
If you operate a local services business, you can use Local Service Ads to directly connect with potential customers. Google prompts visitors that click on a link to confirm that they're looking for a job in the service area before charging you for a lead. The Google Guarantee program also helps boost ROI if you pass a background and licensing check.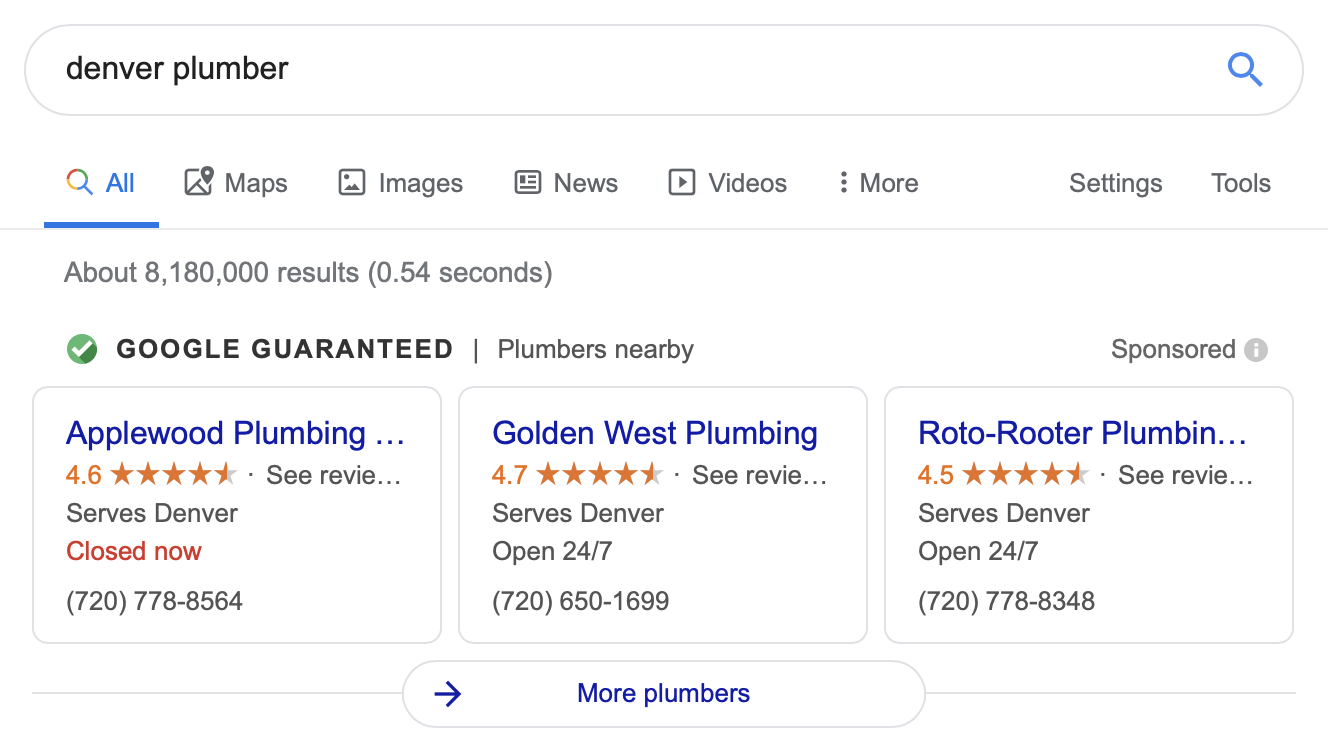 Google Local Service Ad Example - Source: Google Search
Local Search Ads also show up in Google Maps as sponsored locations with highlighted map pins in both mobile and desktop versions. You can set up these ads through your existing Google AdWords account, where you pay per location details click, directions click, click-to-call click, or website click, depending on your settings and preferences.
In addition to advertising, it's important to encourage customers to leave reviews (especially positive ones) since they have a significant impact on search rankings and conversion rates. Google's local ad products provide an easy way to ask past leads/customers for reviews, but you may also want to encourage them at the time of service or via a follow-up call.
#2. Create Local Content for Marketing
Content marketing has become one of the most popular ways to generate traffic and leads. After all, you can pay to produce content one time to generate consistent traffic over time, assuming it reaches the first or second search results page. These efforts could produce a higher long-term return on investment than conventional cost-per-click ads.
While most content marketing efforts focus on high-level keywords, such as "financial advisor", local content marketing focuses on location-specific keywords, such as "Omaha financial advisor". These more-specific local keywords are often easier to rank for than higher-level keywords, while simultaneously generating more targeted traffic.


Comparison of Keyword Difficulty for Local vs. National Keywords - Source: AHrefs
There are many different forms of content marketing to consider. For example, long-form content provides readers with in-depth information that's discoverable in search engines, and infographics consolidate statistics into an easy-to-understand image that's ideal for sharing on social media. The best content marketing strategies incorporate many formats.
Content marketing works best when it's paired with an effective conversion funnel. For instance, you may offer readers something of value in exchange for their email address and then enroll them in a drip marketing campaign that aims to convert them into a customer over time. These campaigns should be 90% educational and 10% promotional to build trust.
The good news is that many of these efforts can be streamlined with modern marketing automation tools. For instance, you can easily set up a blog in WordPress, schedule social media posts in Buffer, and create drip email marketing campaigns in MailChimp. It's also a good idea to create an editorial calendar in Google Sheets to plan topics ahead of time.
#3. Localize Your Website
Google Maps and local content marketing are great for small businesses, but national brands looking to improve their local marketing require more scalable strategies. Using new localization tools, national brands can customize their website content, promotions, and other factors to cater to local audiences to increase conversions and drive revenue.
For instance, suppose a sporting goods store sells team jerseys in a variety of different states. Rather than showing a single sports team for everyone, they could detect a visitor's location and show jersey promotions for their local team. These efforts could increase conversion rates by displaying a more relevant offer (or perhaps avoid a competing team).
In addition to promotions, you should localize other core elements of your website to make it as easy as possible to make a purchase. The most common examples are updating language, currency and shipping methods based on a visitor's location or browser-based preferences. These efforts can have a dramatic impact on the overall conversion rate.
There are many different ways to accomplish these feats on a technical level, but the right choice depends on the situation. For example, it's best to obtain language preferences from browser settings rather than an IP address, whereas the right default shipping methods should be based on the visitor's purchasing history or IP address.
WonderProxy makes it easy to test localization using either interactive or automated tests. For example, manual testers can use our simple browser extension to instantly switch between countries to ensure localization works. Automation engineers can use our built-in integrations to develop Selenium scripts to test localization.
Explore WonderProxy's plans to get started today!
The Bottom Line
Many consumers search for a business online or find it on Google Maps before setting foot in a store. With local marketing strategies in place, you can ensure that you have a proper digital presence on Google Maps and in search engines. These efforts can place you ahead of the competition and ensure that you're reaching your sales goals with measurable ROAS.
New technologies, such as WonderProxy, MailChimp, and Buffer, have made it easier than ever to implement these strategies without breaking the bank.