We're incredibly happy to introduce a resource for the software testing community! With Curated QA, we're making it easier to find great videos on QA topics, and showcasing a great talk every week. The site is under active development, but I think it's far enough along to start being helpful.
Why
I was looking for a tutorial on a QA topic a few months ago, and after a fair amount of searching managed to find something relevant. But it had so few views! There's all this great knowledge out there, free, on YouTube, but so few people are finding it.
I think part of the reason people aren't watching the content is that YouTube as a platform has so much content it can be hard to dig into exactly what you're looking for. Searching for something like "automation" might yield a music video, programmable logic controllers, or an episode of Last Week Tonight.
A search for automation with Curated QA gives you much more relevant results: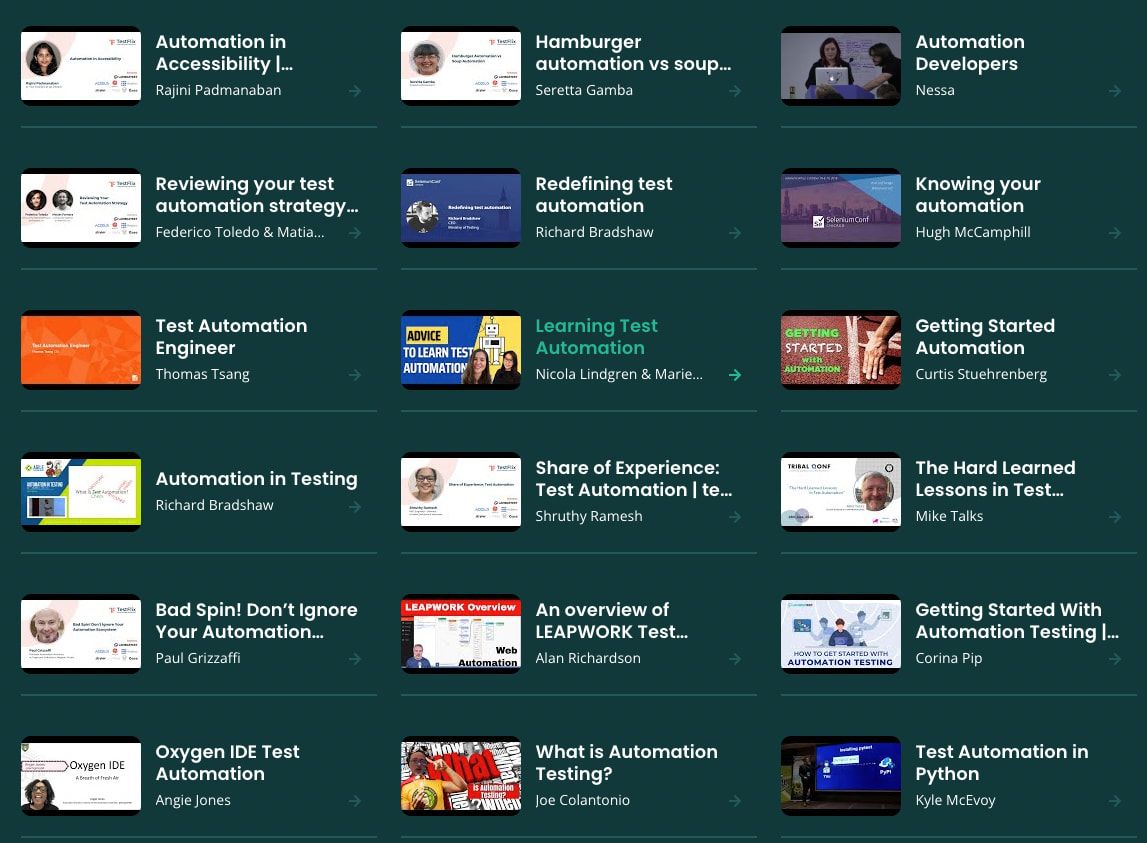 Looking for details on chaos engineering or the Netflix Chaos Monkey? We got you. Want to see how Duolingo improved their use of screenshots across multiple platforms and languages? It's there (and our first featured talk!). Did you miss SauceCon this year? We got you.
Super smart folks have created amazing content, and shared it with the world for free. Conferences hired more smart folks to manage recording, encoding, and posting these videos. We're just hoping to help make it easy to find.
How
To build this list of content we searched the history of some QA conferences, podcasts, and user groups. Then I tweeted looking for even more suggestions. We hired some contractors to go through the list of talks and put relevant data into a spreadsheet and tag it as appropriate. We combined that data with what we could grab from the YouTube API, and indexed it all with a search engine.
What's next
We're still working on making this better. There's some bugs, filters could be more clever, etc. I'd really consider the current set of tags to be a first pass, so we'd like to put more effort into that. It's not clear if the best approach would be to hire someone with a background in QA willing to manually tag a couple thousand videos, or open it up to more community tagging/promoting/etc (with appropriate moderation tools in place).
You can help!
Take a look at Curated QA, maybe watch the first featured video, or look for something you've been wanting to learn about. Then reach out to us on Twitter @CuratedQA and follow us for more featured videos.
Things we'd love to hear from you:
What video should we feature next week?
What videos aren't in our database, but should be?
Feature requests and bug reports!
Thanks, and happy learning